The Portuguese Air Force awarded a contract to IFAD TS for the purchase of a new DART F-16 simulation based tactical training centre.
The Portuguese Air Force awarded a contract to IFAD TS for the purchase of a new F-16 simulation based tactical training centre.
On 6th January 2022, the Portuguese Visa Court approved the purchase of a new F-16 tactical training centre for the Portuguese Air Force (PRTAF).
IFAD TS A/S (IFAD), together with subcontractor Arenalogic ApS (AL), has been selected as supplier of the DART (Deployable Affordable Readiness Trainer). The DART is a new combined F-16 and JTAC/GCI tactical training centre, which will support the Portuguese defence in educating and training their F-16 pilots in tactical Air-to-Air and Air-to-Ground operations, their Joint Terminal Attack Controllers (JTAC) in Close Air Support (CAS) operations, and GCI personnel.
DART F-16 Delivery to PRTAF (>)
The DART has been jointly developed by IFAD and Arenalogic and has been in successful operation, for several years, at the Royal Danish Air Force (RDAF).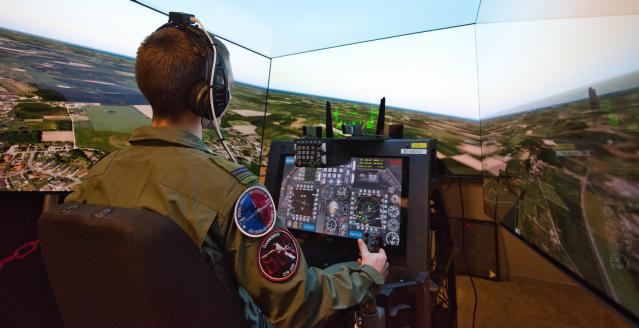 Pictures courtesy of the Royal Danish Air Force (RDAF)
The DART system will be delivered in 2022
The DART system is purchased as a Commercial off the Shelf (COTS) solution with additions based on specific Portuguese Air Force needs (the DART-PT version). The DART-PT delivery is foreseen in the fourth quarter of 2022 and will be followed by a Support & Development phase in 2023.
In respect to the newly awarded contract award Mr. Benny Graff Mortensen, President and CEO of IFAD said "This is an important award for us. We are very much looking forward to the collaboration with the Portuguese Air Force". "We are committed to maintaining our technology and expertise to the benefit of our military users and we are confident that we will meet the needs of the PRTAF for a cutting-edge F-16 simulator training system".
DART - a competitive F-16 training solution
DART is a fully developed COTS F-16 tactical training system, with the possibility of national adaptations. DART is currently in operation at RDAF in Denmark. The DART solution is now available on the international market for current and future F-16 user nations. The system is extremely competitive in terms of training value, functionality and price.
Reference
When DART was delivered to the RDAF, Commander Col Holstener-Jørgensen of the Royal Danish Air Force, F-16 Fighter Wing Skrydstrup stated: "DART makes it possible to use a simulator that is completely up-to-date on the software side and compatible to the F-16 aircraft that we use in the Danish Defence. The simulators allow us to train important tactics and procedures in a timesaving and inexpensive way. With the new simulators, we can supplement the current training flights with scenarios and situations, which, during current live flights, would require disproportionate resources".
More information
Feel free to contact us for further information if you find this solution interesting or to discuss a solution that suits your needs.
Please contact Henrik Fabricius, Director, Sales & Marketing, IFAD TS A/S
on +45 6311 8891, Henrik.Fabricius@ifad.dk, or www.ifad.dk