IFAD TS has delivered an IRAS Communication solution to the Kenya Navy Training Center at Mombasa. The IRAS solution is being used to train naval officers in tactical radio communication procedures.
IFAD has been awarded a contract to deliver an IRAS communication solution to the Kenyan Navy. The solution provides communication for an existing ship handling and tactical simulator and is integrated with the simulator using the open Distributed Interactive Simulation (DIS) standard. The configuration consists of several IRASComm stations, that provide communication for the students, instructor stations that allow configuring and monitoring the communication, and a communication server.
The IRAS solution, supporting several naval communication stations, allows for simultaneous usage on different channels. The whole communication solution is based on the DIS protocol, and is via DIS seamlessly linked to a large naval warfare training setup thereby allowing range dependent radio communication.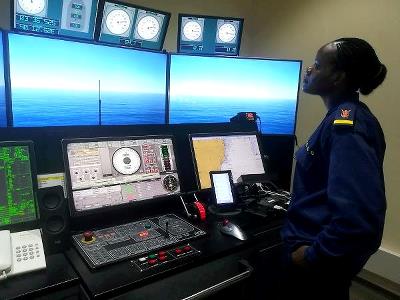 The Kenyan Navy, now using IRAS as its primary radio communication simulation solution, took delivery of the IRAS turnkey solution in March 2019 having successfully organized the first communication exercises with IRAS in April.
About IRAS
IRAS is a complete family of radio simulation and communication products that fulfill the needs for effective and realistic radio operator training, communication procedure training and rehearsal of complex communication scenarios. IRAS is a line of solutions that provide communication for existing simulators. The IRAS navy version is a solution that is intended for navy customers, originally developed in close cooperation with the Royal Danish Navy. The IRAS product suite is designed to provide both realistic communication, equipment operation as well as communication experience. IRAS includes solutions for training as well as voice communication in real time training simulators. IFAD has delivered IRAS solutions to military customers worldwide, incl. UK, Germany, Singapore, Kenya and Denmark. IRAS is being used by all military services in Denmark.
About IFAD TS
IFAD is the leading Danish provider of simulation-based training solutions with focus on mission-critical training. We provide training and interoperability solutions, customization, integration, and support to Danish as well as international military customers.