IFAD TS signs Memorandum of Understanding with Airbus Defence and Space regarding work related to the Eurofighter Typhoon. The agreement has a perspective of 30 years for 15 people.
IFAD has signed a Memorandum of Understanding (MOU) with Airbus Defence and Space related to the Eurofighter Typhoon, which Denmark is considering as a substitute for its ageing F16s.
Airbus DS IFAD - MOU News release
"This is an agreement with a 30 years perspective - and that is quite huge for us," says the CEO Benny Graff Mortensen from IFAD. He is looking forward to expanding with 15 new employees, who are certain to be employed for the next 30 years, if Airbus wins the Danish fighter competition.
"The amount of knowledge that will be transferred to IFAD means a lot to us. In part for the products that we are already producing, ensuring significant continued high-tech development, and in part for our future development of completely new products based on the transfer of technology," says Benny Graff Mortensen.
IFAD has been a supplier to the Danish Defence for many years. IFAD has provided simulators for the Royal Danish Navy and Army's training facilities in Frederikshavn and Oksbøl, and will also be in charge of the maritime helicopter simulators which will be delivered to Denmark early 2016.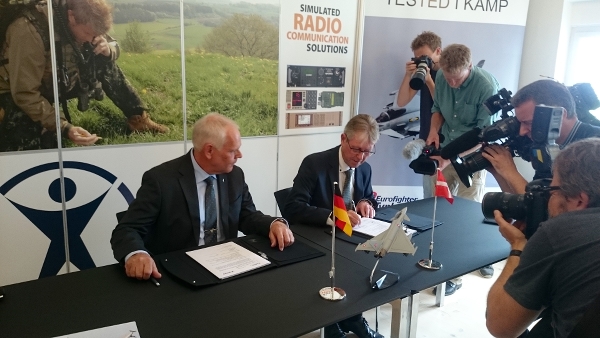 MOU signature event at IFAD August 17th 2015